Fall Arbor Day 2022 Tree Planting Event - Lafayette, Indiana
The Fall 2022 Arbor Day Tree Planting Event will be held outside in the morning on Saturday, October 8, 2022. Volunteers will plant 54 trees along Underwood Street in Lafayette. Trees have many benefits for the neighborhood, the community, and the environment. Join us for some fresh air, fun, exercise, and satisfaction that you are helping the community and the environment. Free event.
This year is the 150th Anniversary of Arbor Day. The City of Lafayette and Tree Lafayette have committed to planting 150 trees on Underwood Street this year to recognize the 150th Anniversary of Arbor Day. Come celebrate with us and help plant trees. The first Arbor Day was held in Nebraska in 1872. Click to see the history of Arbor Day. Trees are becoming even more important with climate change. We still need to make more progress and plant many more trees.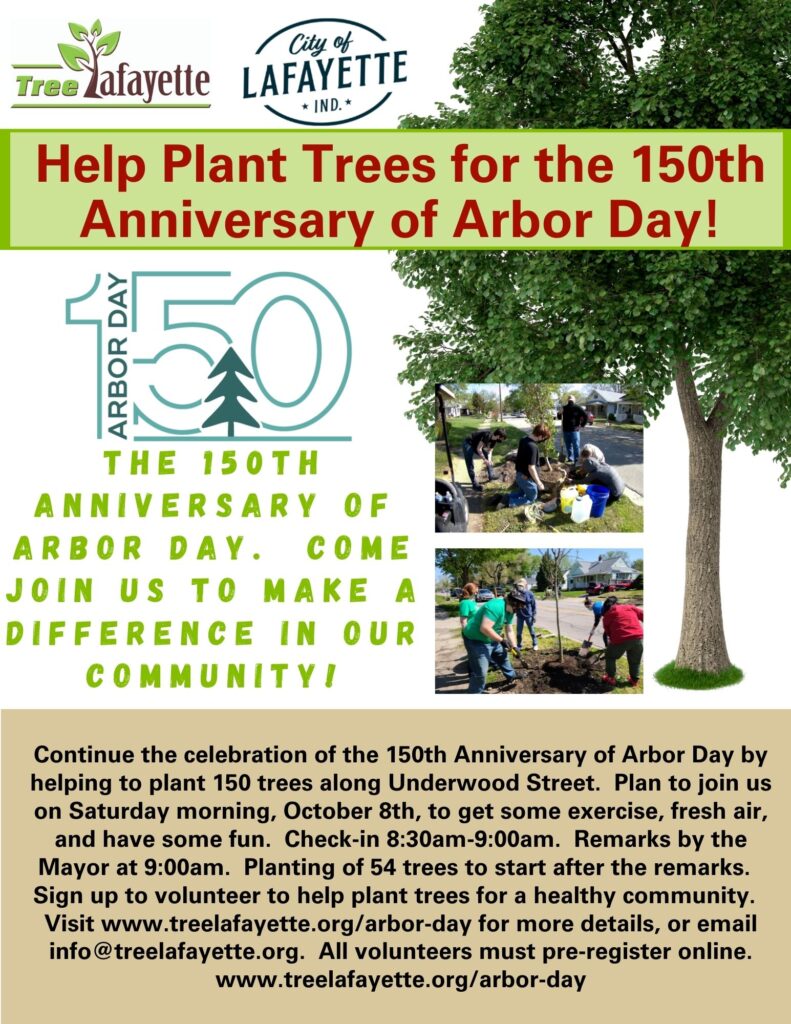 Watch Video from Arbor Day 2021
CDC and Tippecanoe County Health Department COVID-19 guidance as well as federal, state and local directives will be followed, as it applies at the time of the event.
Teams
Get your friends, relatives, and coworkers to sign up to help plant with you. Pre-formed teams are encouraged in order to allow people to be more comfortable working with a small group that they are familiar with.
Individuals
Don't worry if you do not have a team. You can sign up and be teamed up with others at the event.
Schedule
Volunteer check-in - 8:30am to 9:00am
Remarks by the Mayor - 9:00am
Volunteers start planting 54 trees following the Mayor's remarks
All participants need to pre-register online.
You can contact us at info@treelafayette.org if you have any questions. The online pre-registration button is below. Check-in at the Registration Table when you arrive at the event on Saturday, October 8, 2022. Arrive between 8:30am and 9:00am.